I love the beginning of a new year. It is a fresh start! Anything is possible! I don't usually make New Year's Resolutions...but there are some things I want to focus on this year. Let's call them goals instead of resolutions. Here are some of my
New Year's Goals
:
1.
Get the house REALLY organized.
I'm a pretty organized individual. Being a teacher, I wouldn't survive if I wasn't somewhat organized, but there are some things I want to do to get the house REALLY organized. I am going to work on making sure that every drawer, every closet, every nook and cranny of my home is organized and in order. Many people have junk drawers and messy closets, but mine are going to be de-cluttered and organized. Just like I did with my linen closet last May when I turned
this
...
into
this
...
There are two sites that I think are really going to be able to inspire me in my quest for complete organization. Sassy Sites is hosting Operation Organization Jan. 1 -Feb.1.
And A Bowl Full of Lemons is hosting 21 Days to Getting Organized.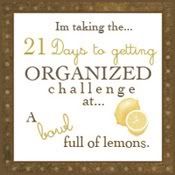 Stop by and check out these two awesome sites.
2. Schedule monthly Date Nights with my husband.

A couple of weeks ago, Tim and I went on our first real date (no child, adult conversation, dinner, movie...) in over a year. We had a wonderful time, and I realized that we really need to make a commitment to spend more time together like that.
3. Deep clean the house. My house is pretty clean, but me and my OCD self really want to get it looking spotless. I also want to get into a cleaning routine and have a cleaning schedule. To help me out with this, I am going to be cleaning right along with Clean Mama as she tackles her house during Cleaning Month. Check it out.
4. Finally begin to tackle the home improvement and decorating list.

There are a lot of things that we keep saying we are going to do around the house, but have yet to actually complete. At least some of the things on the list are going to get done this year.
5. Turn my Etsy shop venture into a successful adventure.

I just opened my Etsy shop, and I really want it to do well. I also want it to be something that I have a lot of fun with.
6. Read through the whole bible this year.

I have read through the whole bible before and several books of the Bible many times, but I want to read through it again this year.
7. Make it from A to Z on our ABC Weekends.

This little idea encourages quality time together as a family. We have tried it twice before, but we have never made it through the whole alphabet. I'll post more on it tomorrow, but for now...you can read this.
8. Plan more arts and crafts projects for Lydia Grace and I to do together.
9. Create, sew, or make one thing a week.
10. Make a manual for the house.
I want to make a binder complete with "To Do" lists, "To Call" lists, important phone numbers, a bill checklist, shopping lists... It will be my manual for running the house. Being a working mom, I think this binder will really help me juggle my job in the classroom and my job in the home. I'll post more on it later.
11. Have fun, laugh more, stress less, smile often, and love lots!
There they are. Eleven of the goals I have for 2011. Maybe casting them out into blogland will encourage me to accomplish them. 2011...here I come!