This shop has been compensated by Collective Bias, Inc. and its advertiser. All opinions are mine alone.
#VeggieSummerGrilling
#CollectiveBias
How is it that my husband and I managed to go almost 10 years into our marriage before buying a grill? My mother--who loves to cook on hers--has asked that question several times. She counts a grill as a basic household appliance. We just bought our first one this summer, though. And you know what? I

wish we'd made this purchase a decade ago because it's been such a fun way to cook delicious meals for our family during the hot months of summer. Today I'm sharing my most recent grilled recipe--Pulled Pork Stuffed Peppers!
Made with fresh bell peppers from our garden and the NEW
MorningStar Farms® Veggie Pulled Pork, they're an easy and delicious dish to make. Serve them as a stand-alone meal or with burgers like the

MorningStar Farms® Spicy Black Bean Burgers we served with ours for dinner the other night.
We have a garden that is bursting with delicious vegetables that we've been harvesting and enjoying. Our pepper plants have done especially well. I needed something delicious to make with them, so Barbecue Pulled Pork Stuffed Peppers it was!
We Southerners sure do love our barbecues!
Let's go Shopping!
I began purchasing the MorningStar Farms
®
products back in college when I first started eating a vegetarian diet. Yes, a vegetarian in the South! I'm a rare breed. Their products aren't just for vegetarians, though! I'm the only vegetarian in the family, but we all enjoy these veggie cuisine products
! Ready to shop for delicious MorningStar Farms® products for your family? Hover over the photo to click through to Walmart.com and purchase a few! Don't forget to grab the Veggie Pulled Pork so you can make the recipe below.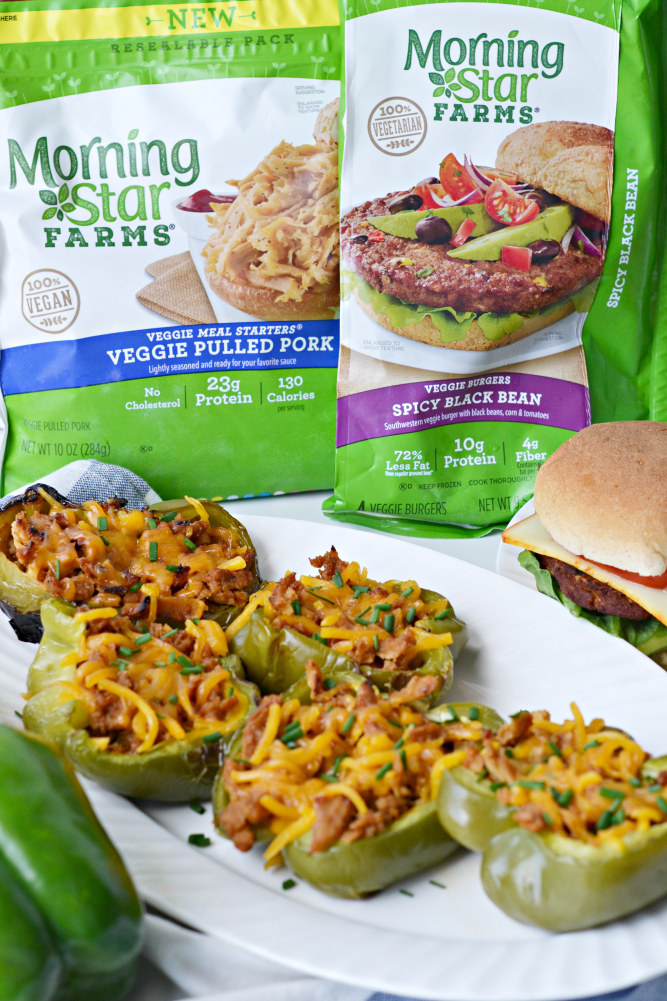 Save
To make shopping even better, enjoy this Ibotta offer when you purchase any three MorningStar Farms® products. My family is able to save money every year using Ibotta. And this is a great offer to start with!
Recipe: Pulled Pork Stuffed Peppers
Ingredients
3 bell peppers

MorningStar Farms® Veggie Pulled Pork

Barbecue sauce (Just use your favorite. We a jar of homemade sauce from a local farm.)

salt and pepper

shredded cheddar cheese

chopped chives (Ours came from the garden, but they're readily available in stores.)
Directions
Fire up the grill and set the side for the peppers on low.
Prepare the pulled pork according to the package's instructions. Stir in your favorite barbecue sauce and a little salt and pepper to taste.
Slice and seed the bell peppers. Season each one with a pinch of salt and pepper.
Fill the peppers with the barbecue pulled pork.
Loosely wrap each pepper in foil and place them on the grill. Let the peppers cook for 10-15 minutes. Open the foil to check on them. If you like your peppers a little more charred, you can cook them for a few minutes straight on the grill without the foil.
Remove the peppers from the grill and add shredded cheddar cheese over the tops. Finish them with a sprinkling of sliced chives. Serve and enjoy!
Don't you just love when someone shares an easy and delicious recipe with you? Return the favor and share this summery recipe with others. Just pin it with the links below.
What is your favorite recipe to make on the grill? Do you have a recipe idea in mind for the NEW
MorningStar Farms® Veggie Pulled Pork? I'd love to hear about it in the comments below! For more delicious recipes, be sure to visit MorningStar Farms on Pinterest.