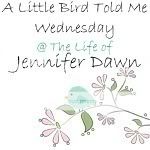 Thanks for stopping by! Let's get right down to business with the featured posts from last week's party...
Randi's
Washi Tape Thank You Cards
--Sowdering About in Seattle
Sweet Southern Blue's
Butterscotch Cupcakes
Linda's
Portable Fire Feature
--With a Blast
Lisa's
Striped Maxi Dress
--Stubbornly Crafty
Abbi's
Weekly Blog Planner
--Seasons of Homemaker
&
Brianna's
Colored Pasta for Playtime
--Craft and Repeat
Wonderful posts, ladies! Feel free to grab a button if you were featured...
Before we move to this week's party, I have something to divulge.
I've been keeping a little secret from you. It's one that I have been looking forward to sharing but wasn't at liberty to do so until today.
So...here it is. There is this fabulous Craft Contest taking place over at Amy's corner of blogland--One Artsy Mama.
Contestants will be competing in various craft rounds in pursuit of some amazing prizes and bragging rights too, of course. What's a contest without judges though?
That's where my little secret comes in...
I've been chosen as one of the judges!
I'm so excited to be a part of this fun and fabulous competition!
Now it's time for the party...
I know my fellow bloggers are doing some fantastic things out there in blogland. A little bird told me that you are! I'd love for you to share a recipe, craft, home decor project, or any post you're proud of...
Grab a button, link up, visit others, and be sure to leave some comment love on each other's posts! That same little birdie told me that

w

e all l

ove comments!
I will feature a few more fabulous links next week. Remember that you must link back in order to be featured. If your link does get featured, I have a special Pinterest board to further showcase your tremendous talent!
For my non-blogging readers, feel free to visit the links and glean inspiration!
Here we go! I can't wait to see the amazing things that you link up this week!