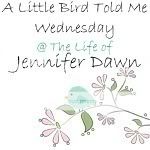 It's time for another link party!
These weekly parties are some of the only posts I have managed to publish lately, but I have loved being inspired week after week by all the fabulous things you all are doing--especially at a time when I am feeling very uninspired myself. I am currently sitting on the couch with my massively swollen feet propped up on a pillow, a huge belly making it a challenge to reach the keyboard, and body aches that make me feel like I've been hit by a truck. Despite the challenges of pregnancy, I do feel very blessed to have carried Caleb to the point where we are looking at meeting him within days. Days! I am so excited! The miscarriages we've previously experienced have certainly made us grateful for the precious miracles we've been blessed with--Lydia Grace, Eli, and baby Caleb. I promise that things will pick up on the blog very soon.
Until then...
thanks for stopping by each week and linking up your fantastic and inspiring posts. Here are some of my favorites from last week...
I loved...
Andrea's Scrap Fabric Chandelier
Rebecca's Library Book Bag
Marissa's Seuss themed snacks and activities
Kendra's Microwave Lemon Strawberry Cake
Bella's Linocut Printmaking
Wonderful posts, ladies! Feel free to grab a button if you were featured...
Now it's time for this week's party...
I know my fellow bloggers are doing some fantastic things out there in blogland. A little bird told me that you are! I'd love for you to share a recipe, craft, home decor project, or any post you're proud of...
Grab a button, link up, visit others, and be sure to leave some comment love on each other's posts! That same little birdie told me that

w

e all l

ove comments!
I will feature a few more fabulous links next week. Remember that you must link back in order to be featured. If your link does get featured, I have a special Pinterest board to further showcase your tremendous talent!
For my non-blogging readers, feel free to visit the links and glean inspiration!
Here we go! I can't wait to see the amazing things that you link up this week!