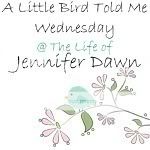 &
Congratulations on some great posts, ladies! Feel free to grab a button if you were featured...
Now it's time for this week's party...
I know my fellow bloggers are doing some fantastic things out there in blogland. A little bird told me that you are! I'd love for you to share a recipe, craft, home decor project, or any post you're proud of...