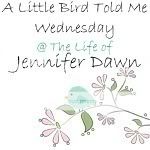 A big "thank you" to everyone who linked up and participated last week! The talent was tremendous!
Here are a few fabulous features from last week...
Delicious Mini Apple Crisp baked by Sarah of Alderberry Hill
Adorable Baby Items Crocheted by Felicia of All Things Fee
Decadent Maraschino Chocolate Treats made by Linda of With A Blast
A Bright and Beautiful Rio Costume crafted by Andrea of The Simple Craft Diaries
&
This Fabulous Wooden Calendar made and posted by Aimee of Twigg Studios
Congratulations on some great posts, ladies! Feel free to grab a button if you were featured...
Now it's time for this week's party...
I know my fellow bloggers are doing some fantastic things out there in blogland. A little bird told me that you are! I'd love for you to share a recipe, craft, home decor project, or any post you're proud of...
Grab a button, link up, visit others, and be sure to leave some comment love! That same little birdie told me that

w

e all l

ove comments!
I will feature a few more fabulous links next week. Remember that you must link back in order to be featured. If your link does get featured, I have a special Pinterest board to further showcase your tremendous post!
For my non-blogging readers, feel free to visit the links and glean inspiration!
Here we go! I can't wait to see the amazing things that you link up this week!