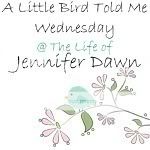 A big "thank you" to everyone who linked up and participated last week! There was some tremendous talent present in the links. I truly had a hard time picking a post to feature this week. There were at least twelve pulled up in my browser at one time that I kept clicking through trying to pick which to feature. One kept standing out though. One of the links from last week spoke to my heart in a way that the author probably never expected.

Here is the post that I am featuring this week...
The Zen Garden from How Do U Like Them Apples
...
What a cute project!
More than that though...I love how involved her husband was in the project. Right along with their little one, he crafted away. Ashley wrote, "Another shot of the Hubs crafting...it makes me smile just looking at it!" It made me smile, too. The pictures reminded me of all of the projects that my own dad and me have done together through the years. As a child it was Science fair projects, an Egyptian display complete with pyramid and mummy for a Social Studies fair, and the most elaborate Valentine's Day boxes you could imagine. Into adulthood, it was any project that popped into my head like
upholstering an antique rocker
, making a
large flannel board for L.G.
, or even building
a rotating board to use for small group sessions in my former classroom
. It warmed my heart to see Ashley's sweet little girl crafting with her daddy. Ashley's hubs, please know that you weren't just building rakes for a zen garden, but you were building memories.
Congratulations a great post, Ashley! Feel free to grab a button...
Before we move on with the party. Please take a moment to lift my own father up in prayer. He could really use the prayers as he continues to battle pancreatic cancer with yet another surgical procedure today. Your prayers are greatly appreciated.
What have you been up to this week?
I know my fellow bloggers are doing some fantastic things out there in blogland. A little bird told me that you are! I'd love for you to share. Share a recipe, craft, home decor project, or any post you're proud of...
Grab a button, link up, visit others, and leave some comment love!
I will feature a few more fabulous links next week. Remember that you must link back in order to be featured. If your link does get featured, I have a special Pinterest board to further showcase your tremendous post!
For my non-blogging readers, feel free to visit the links and glean inspiration!
Here we go! I can't wait to see the amazing things that you link up this week!