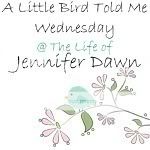 A big thanks to everyone who linked up and participated last week! I was blown away by the tremendous talent present in the links.
This week's features are...
How to Make Your House Smell Amazing
&
These cute fabric letters
made by Ashley of How Do U Like Them Apples
There are so many things that you could use these for--letter activities with the kiddos, room decor...
Congratulations on some great posts, ladies! You have also been featured on the link party's Pinterest board. Feel free to grab a button if you were featured...
Now it's time for this week's party...
I know my fellow bloggers are doing some fantastic things out there in blogland. A little bird told me that you are! I'd love for you to share. Share a recipe, craft, home decor project, or any post you're proud of...
Grab a button, link up, visit others, and leave some comment love!
I will feature a couple more fabulous links next week. You must link back in order to be featured. If your post is featured next week, you will also be pinned to this link party's Pinterest board to further showcase your tremendous post!
For my non-blogging readers, feel free to visit the links and glean inspiration!
I can't wait to see the amazing things that you link up this week!