About a week ago, I stumbled upon
this blog
. Don't you just love those lucky clicks of the mouse where you find yourself at a site you just love?! The thing that lead me there was this...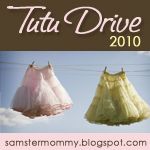 Samster Mommy
has been hosting a Tutu Drive drive to collect dress-up clothes that will be donated to
the Princess Alexa Foundation which helps children

who are battling serious illnesses such as cancer
.
Please visit both sites for more details.
I saw the
Tutu Drive
publicized on another blog, and I just knew that I had to participate even though the drive was nearing its end. I quickly went out to the store to buy some tulle. I have a confession though... Up until this point, I've never actually sewn a tutu before. This was the perfect opportunity to give it a try though.
Figure it out as I went along
Belle from Beauty and the Beast
What little girl wouldn't want to dress-up as this beautiful, book reading princess?!
This Belle Inspired Tutu that a very deserving little girl will feel like a princess in